a stunning location
The first Speyside village reached from the south, Newtonmore is ideally located in 'Monarch of the Glen' country and the Cairngorms National Park.
It is only a five minute walk from the house to the main street which has three pubs, additional cafes and restaurants and a few shops. Two minutes in the other direction will take you to the heart of scenic Glen Banchor.
convenient
Newtonmore is just off the A9, 2 hours drive from Edinburgh and Glasgow and 40 minutes from Inverness.
The train station is a 15 minute walk from the house and is on the main Edinburgh - Inverness line.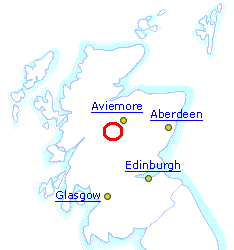 click to view
Treetops
Glen Road
Newtonmore
Scotland